Do you know about the application for enabling IPTV services on your Apple TV is now available in the market. Yes, you can enjoy the streaming of channels on Apple TV like any other Smart TV. Get ready to know about that application and how to use it for setting up IPTV on Apple TV. We'll show you how to Install IPTV in your Apple TV using a suitable IPTV app installing from the app store.
IPTV works almost the same as if a person is surfing on the internet and watching the videos according to their interests. IPTV is a subscription-based TV service which uses Internet Protocol mechanism for this. Hence, cheaper than any other traditional television services. IPTV is one of the most popularly emerging television services with various advanced features in it. After enabling Shark TV, you can easily watch all popular TV channels and also videos on demand (VOD). There is no need for any complex wire fittings during IPTV setup. You can also request from IPTV service for a movie of your interest. IPTV streaming from Shark TV is available on a wide range of platforms like iOS, Android, Apple TV, Mac, Windows and a lot more like these. Most importantly, more than one user can access a single subscription.
How to Install IPTV on Apple TV
Now you know everything about IPTV and why you need this instead of traditional cable systems. So, after all this, you must want to know how to install IPTV on Apple TV using GSE SMART IPTV, which is one of the most downloaded apps for this purpose. For that, you've to download this app and follow some basic procedures. So,  I'm providing you with this step by step guide given below:
Start by switching ON your Apple TV and ensure a secure wifi connection for further proceedings.
Now, go to the App Store section using your TV remote.
In here, enter IPTV in the search bar and select GSE SMART IPTV to install it in your Apple TV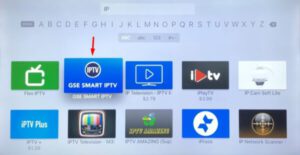 GSE SMART IPTV on Apple TV
Now after the completion of the installation process, open the downloaded app.
Now select Add Playlist option in it
Now open the Remote Playlist File, and a new page will appear
On this page, enter the playlist name, M3U Playlist URL and EPG URL which you will be given by Shark TV
Select the days according to your convenience for Channels Refresh and EPG Refresh. In the end, tap on the Save
After performing all these steps, restart the TV and wait for some time to load all the channels. Now, launch GSE SMART IPTV on Apple TV & enjoy the streaming of your favorite channels.
Apple TV comes with an excellent video quality display, and you need to watch your desired TV shows on it. For this IPTV is an amazing method to get an enjoyable experience in television services. You are provided with all necessary information about IPTV and complete procedure to install IPTV on Apple TV. What are you waiting for then? Go ahead and enjoy your favorite TV programs on sharkiptv.tv servers.