First, if you have Firestick And you like to you use our official application visite the download center 
If you are are interested in installing Smart IPTV on firestick, this guide is going to be a great help for you. We have tried to include all the required things in this content to make this entire process much easier for you. But before proceeding with the content, it really gets very important to go through with the intro so that you can know about it deeply.
Smart IPTV On Firestick (Overview & Features)
Smart IPTV is a media player that comes up with a very sleek and modular package offering you unlimited M3U streaming. If you love to watch out live TV or are a real fan of the latest movies, Smart IPTV is really a great source to enjoy on.
Fully embedded with a long list of IPTV sources, SMART IPTV is an internet protocol TV that makes it easy to stream TV channels over the internet protocol networks. The app is being designed to offer full free access for the users for about a week, but to continue with the services later on. One needs to upgrade it with the activation fee of 5.49 Euros. One thing that you need to keep in mind here is that the app itself does not include any channels in it. In fact, it is a media source that makes it easy to meet various resources online.
Also, the app is not available on the official stores of various operating systems so if someone wants to install smart IPTV on firestick, they have to install it from a third-party app. it is one of the most trusted streaming sources that makes it quite easier to enjoy a wider range of content at a very low budget. Users are free to enjoy easy live streaming anytime they want without relying on your cable TV. Moreover, the video quality is provided by the Smart IPTV is quite amazing that makes your streaming amazingly well.
Features
The app offers you the freedom of streaming out a large number of live TV channels with internet protocol.
The app offers subscription-based streaming where internet protocol is being used to deliver millions of live TV channels.
The app also offers the accessibility of video on demand as well.
Users are free to watch recorded TV shows, movies, and series anytime you want.
The video quality is offered by Smart IPTV on firestick is really very great.
How to install Smart IPTV on Firestick & Fire TV 
As we have mentioned you earlier that Smart IPTV is not being there available on the official app stores, so you need to search on some third party sources for the same. You will get to know about the two different methods of installing Smart IPTV on Firestick here, which are:
Install Smart IPTV on Firestick using Downloader App
Install Smart IPTV on Firestick using ES File Explorer
You can also use our official application in your stick using
using downloader click here 
Prerequisites
It would be quite beneficial for anyone to get familiar with the prerequisites first as these are going to be primary requirements that we can't ignore or replace off. The basic requirement in both of the solutions given here is to turn ON the "Allow apps from unknown sources" and you can do it by:
Launch your Amazon Firestick and then move towards its Settings option.
Tap on the My Fire TV here and then go ahead with Developer Option.
Tap on Apps from unknown sources and then tap to Turn ON.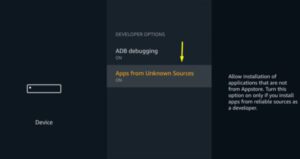 Bingo! You are now free to install any third-party apps on your Firestick now.
Method 1 – How to install Smart IPTV For Firestick Using Downloader
Open firestick and search for the Downloader app.
Select the Download now and then allow it to install on your device.
Once done, launch this Downloader App and then enter URL: https://bit.ly/2kbUCeR in the provided column.
our using our official application click here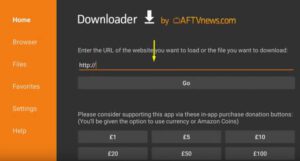 Press Go to move forward with the process.
The downloading process will start and once it's done, it will automatically lead you towards the installation page.
Tap on the Install button and wait for a few seconds to accomplish the installation process.
On the successful installation of Smart IPTV on your device, tap on Open to launch it on your device.
The app offers seven days free trial for the users after which they have to activate it by paying out the required subscription fee of 5.47 Euros.
Method 2 – How to Setup Smart IPTV on Firestick Using ES File Explorer
For starting up Smart IPTV installation with ES File Explorer, you just need to install ES File Explorer on your device. You can initiate the process by:
Launch your Amazon Firestick and search for ES File Explorer there.
Select and Download ES File Explorer by tapping on the preferred button.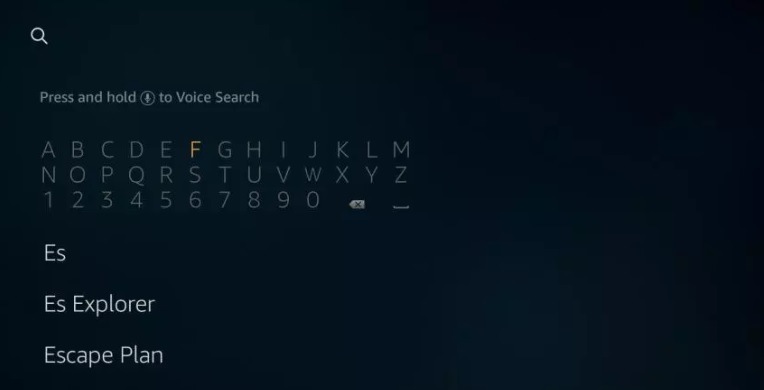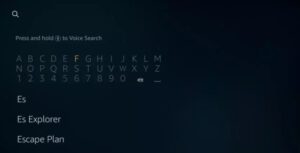 Once the app gets installed, tap to launch it on your device.
Now, tap on the Downloader icon being given there on the screen and then press the "+" button present at the bottom of your home screen.
Add the URL: https://bit.ly/2kbUCeR in the preferred column and name the dedicated file as Smart IPTV.
Once you have done with it, now tap on the GO button that will further initiate the downloading process.
Wait for the downloading process to get accomplish successfully, now tap on the Open Now option.
Press the Install button to go further with the installation page.
Next, tap on the Install button again to initiate the installation process.
Once you receive the notification message of successful installation, tap on the Open button to launch the installed app on your device.
These are the two different methods for installing Smart IPTV on Firestick & Fire TV. You can easily go with any one of the above depending upon your preferences.